Everything You Need to Know About Our Stained Glass Grinder Bits –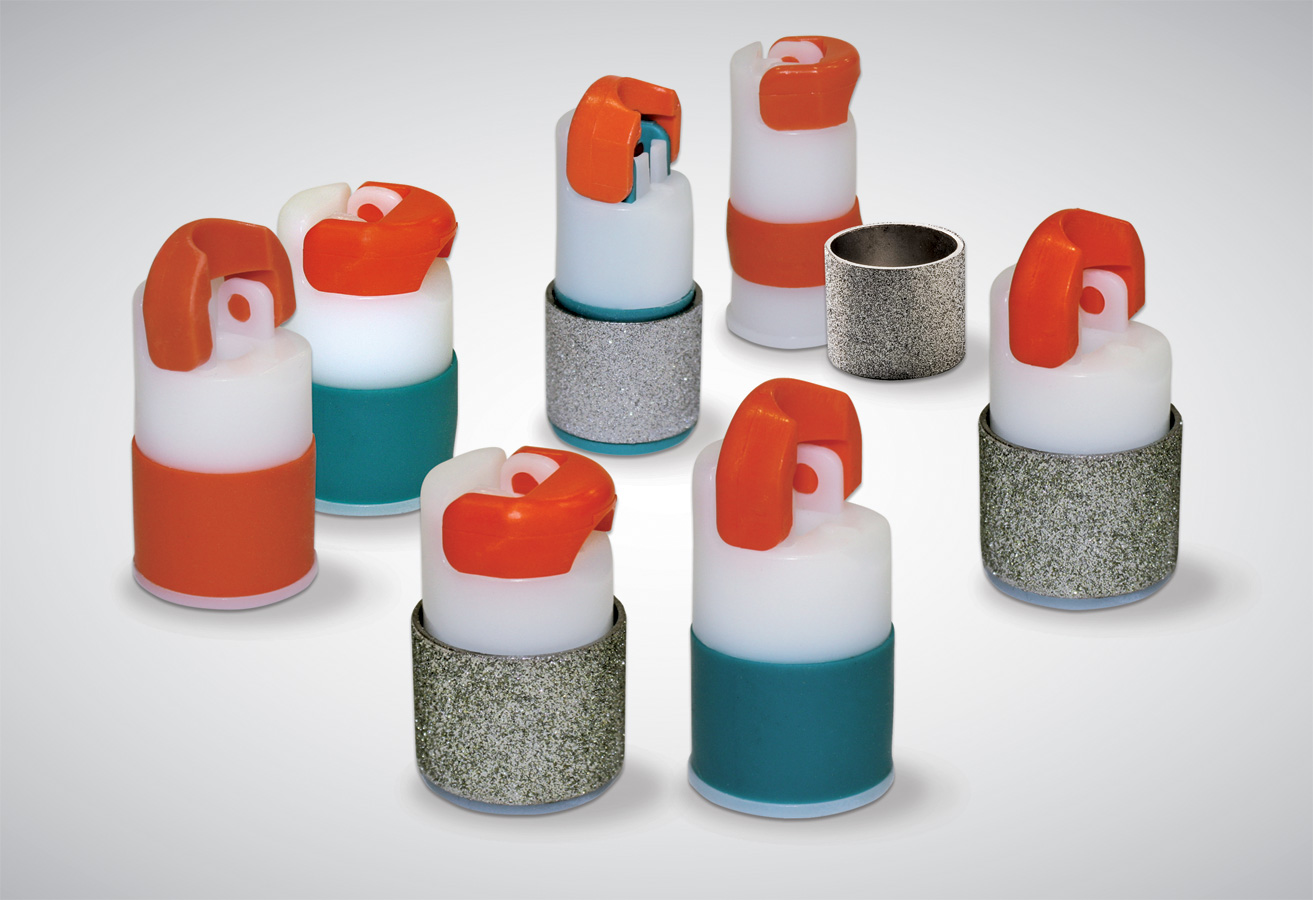 About Our Different Grinding Bits:
Techniglass has developed four different varieties of grinding bits. The most technologically advanced series is the patented shock absorbing Quick-Fit Bit. The Quick-Fit Bit is a shock absorbing bit with a quick changing grit. These innovative bits are easy to install on your grinder due to the stress-free lock and unlock system. Artists who may have a reduced grip strength or people who may lose bit keys often, this is the ideal grinding bit for you! There is no hassle when installing the Quick-Fit Bit as you save time with an easy flip up or down level to secure the bit onto the stained glass grinder shaft. The holder is designed to fit the shaft precisely. With an elastomer acting as a shock absorber, you will experience chip-free grinding. These environmentally friendly bits only require replacements of the grinding sleeve. For information on types and sizes of the Quick-Fit Bit, click on the products page to review the compatibility and details on the product.
Another stained glass grinding bit is the patented GelBit which has distinct colors corresponding to its grit. The GelBits are great to use if you are a beginner glass artist as they come in bright neon colors which are easy to identify. It can be a challenge trying to differentiate the four types of grits when first starting out. The Techniglass team set out to simplify the identification processes for beginner artists.  The universal bit is designed to be compatible with any grinder at an affordable cost. For information on types and sizes, click on the products page for further detail.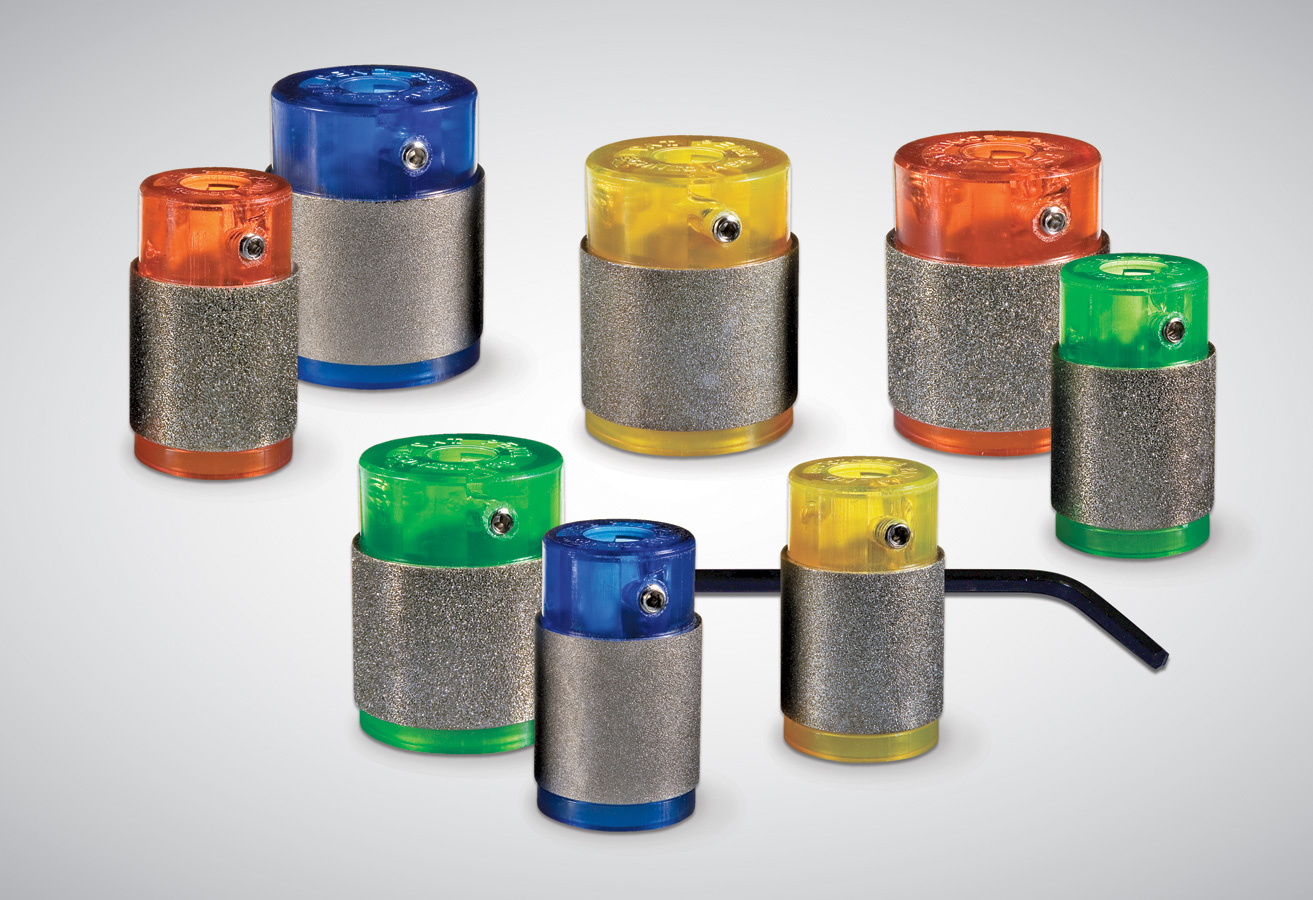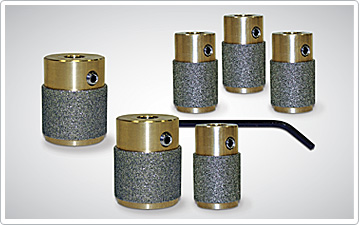 Techniglass's most traditional stained glass grinding bit is the Brilliant Bit. The Brilliant Bit is the gold standard bit equipped with a diamond grit and is an affordable alternative. This Brilliant Bit a very durable, long lasting bit which will not corrode with a solid brass base. For information on types and sizes, click on the products page for further detail.
All of our stained glass grinding bits are equipped with a diamond grit available in a 1" and 3/4″ diameters with rapid, standard, fine and ultra-fine varieties. 
The MINI G Jewelry Bit offers exceptional quality diamond grit available in 1/8" (3.2mm) and 1/4" (6.4mm) diameters with Standard grit. These jewelry bits are specially designed for use with the Upper Platform on The Grinder and The Grinder 2. The secondary platform with water reservoir is sold separately and can effortlessly place atop the main grid. The MINI G Bits also includes an orange Shaft Water Seal, which is placed over the motor shaft before installing the secondary platform. The MINI G Bit System allows you to grind, drill, and shape your artwork to produce intricate creations. For information on compatibility and installation, click on the products page for further detail.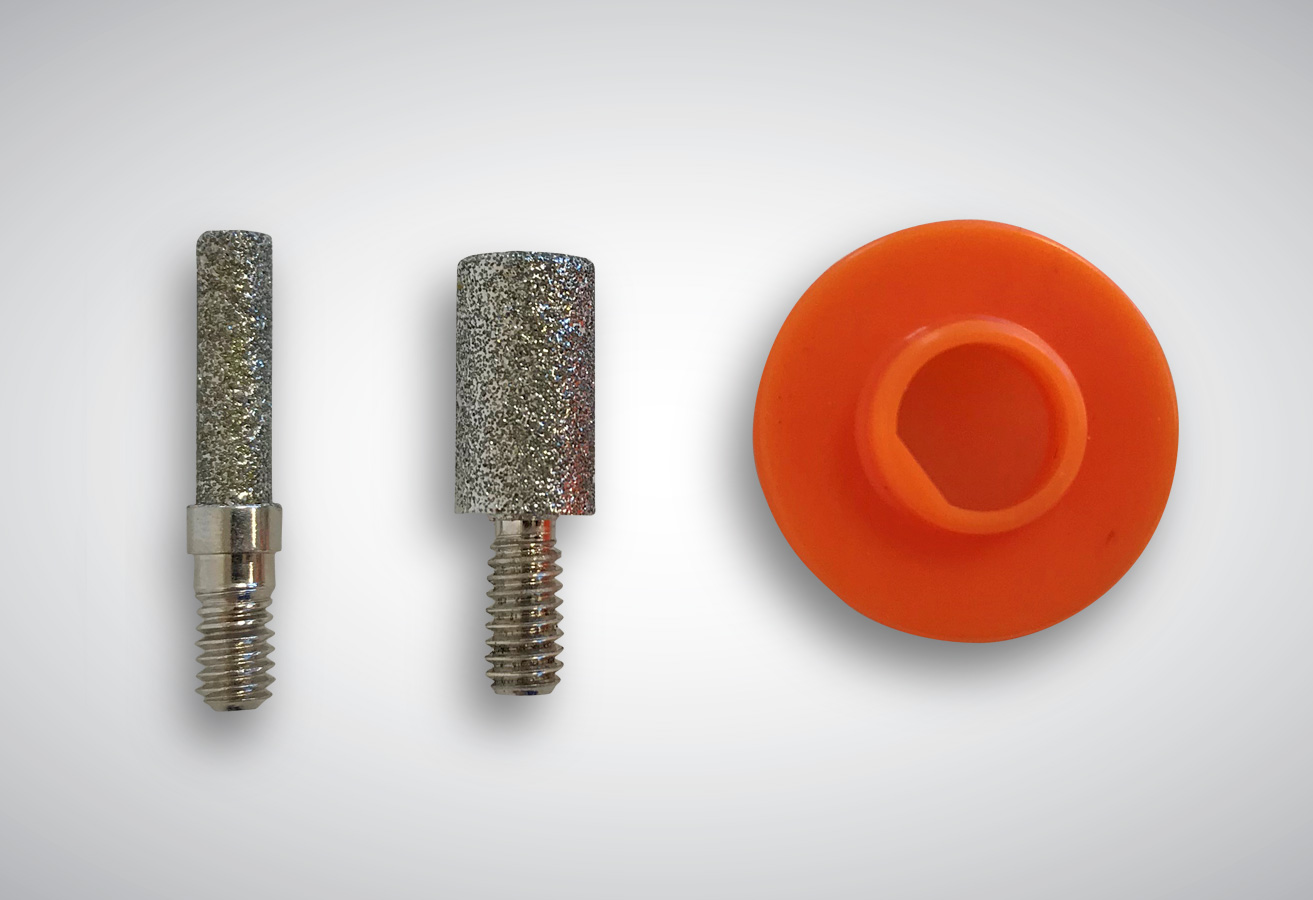 How to Choose the Right Grinding Bit:
When choosing the right stained glass grinding bit, make sure you research which bits are compatible with your grinder because not all grinding bits have universal compatibility.
If you are a beginner artist, it is feasible to use the Quick-Fit Bit or the GelBit as they will simplify your work process. The Quick-Fit Bit has an innovative lock design as it eliminates the need for an Allen wrench, simplifying putting the grinder bit on/off. The Quick-Fit Bit makes it easy to change grits for any artist. The GelBit is an advantage for beginner artists due to the different color identifiers.
If you may be apprehensive to try the Quick-Fit Bit or GelBit, you're a professional or traditional artist, you may prefer our Brilliant Bits as they are long lasting and very reliable products. For professional artists who use their grinder multiple times a day or week, the Brilliant Bit can withstand multiple projects and resists fatigue due to grinding vibration.
How to Choose the Right Grits:
At Techniglass, we produce four different types of grits that are compatible with a wide variety of glasses.  We have rapid, standard, fine and ultra-fine grits for the grinding bits.
The rapid grit surface contains more diamond particles and appears to be a rougher texture. It is used on thick glass to create shapes. The rapid grit is beneficial to use when making large changes to the glass and then move to the standard grit to smooth out edges and make your glass shape more precise.
Standard grinding bits are for shaping glass. The standard grit is best to have as it is compatible with many types of glass and most preferred by many artists.
Fine grits are used for when you are working with thin breakable glass or glass that can chip easily. Artist prefer to use a fine grit as well as an ultra-fine grit when working with mirrors or any antique glass. Antique glass can be fragile and artist don't want to risk cracking or breaking the glass. Artists also use fine grits to smooth edges on stained glass pieces. This grit is gentle compared to the standard grit.