AVAILABLE NOW!
Introducing

SIMPLE, COMPACT AND POWERFUL
COMPACT AND LOW PROFILE.
Simple in design yet masterfully sleek in appearance as well as compact in size, THE GRINDER 3 is a tool for classroom settings and hobbyists. The motor of THE GRINDER 3 is quiet and powerful operating at 4000 RPM.
FEATURES
Powerful Motor
4000 RPM
110/220 V
Low Profile, Contemporary Design
Built-In Accessory Drawer
5 Year Limited Warranty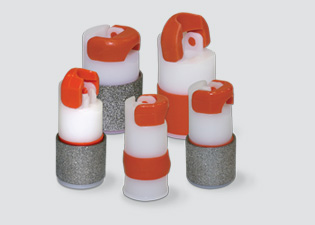 The Quick-Fit Bit®
NO KEY REQUIRED
REUSABLE HOLDER
3/4″ Included with THE GRINDER 3.
Prevents Chipping, 100% Utilization
Engineered with an industrial elastomer, the patented Quick-Fit Bit System absorbs grinding vibration and can be adjusted vertically on the grinder shaft, enabling full utilization of the grinding surface. Changing bits is fast, even for individuals with reduced grip strength. Replacement sleeves available in Rapid, Standard, and Fine varieties.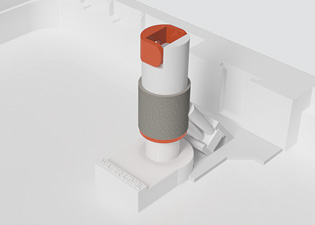 The Aqua Flow System®
NO SPONGE NEEDED
Continuous Water Flow
The patented Aqua Flow System brush bristles transfer water from the reservoir to grinding bit heads via capillary action, requiring addition of water only at the onset of grinding.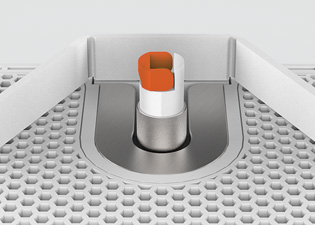 3/4″ Bit Guard and Splash Guard
Made from stainless steel, the bit guard allows for a secure fit between the Quick-Fit Bit and the Grid.
The flexible Splash Guard helps maintain a clean dry work area.
Accessory Drawer
The exclusive, compartmentalized and built-in drawer is a space saving way to store spare bits, Aqua Flow System replacement brushes and more!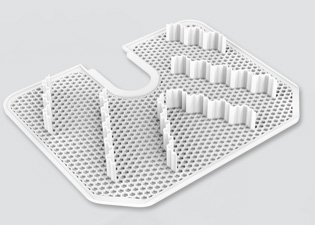 Water Wave Stabilizer and Support System
The patented and uniquely designed main grid includes supports and baffles on the underside to stabilize work surface and limit water movement during tray transport.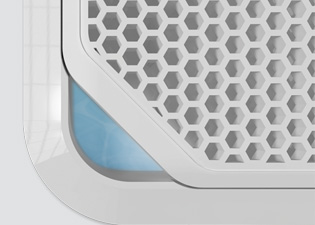 EZ-View® Windows & Lift Grid
It's important to keep a sufficient flow of water to the bit head while grinding. Fill to the Water Level Mark indicated inside the reservoir to ensure an optimal amount of water and prevent overfilling. Reservoir water level can be continuously monitored through the EZ-View Windows. The cut outs allow the Lift Grid to be easily removed for addition of water or cleaning.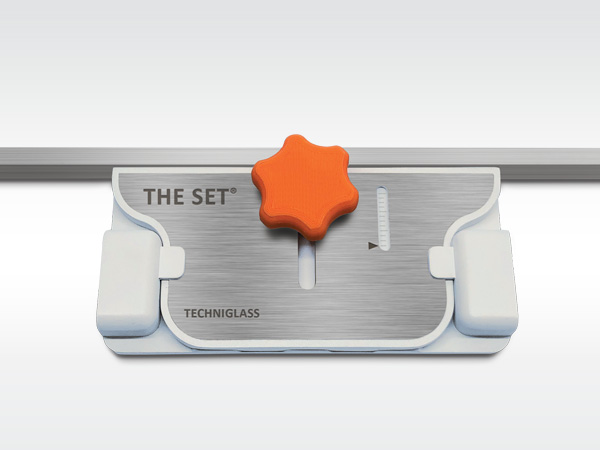 The SET® Straight Edge Tool

The SET Straight Edge Tool perfectly aligns atop THE GRINDER 3 work surface, enabling glass to easily slide between the grinding bit and the straight edge guide bar.
Precisely grind rectangle and square shaped glass to your desired dimensions. Finish your pieces with confidence and accuracy.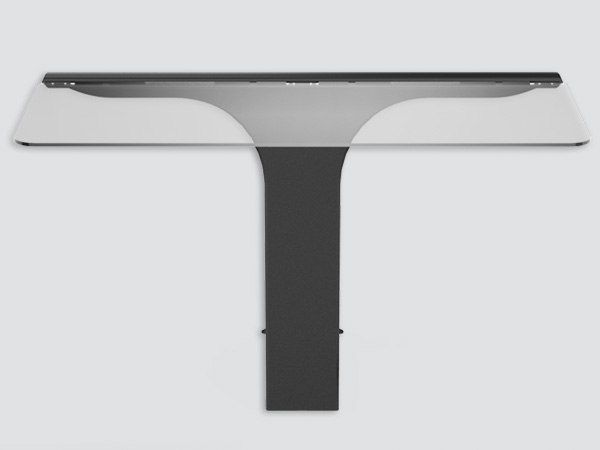 Lens-grade Eye Shield
The lens-grade eye shield can be easily attached. It provides protection from minute glass particles that become airborn.
| | |
| --- | --- |
| Product | Techniglass Item # |
| Quick-Fit Bit System 200 – ¾" | QFBS-200-3/4 |
| Aqua Flow System | AFS-TG |
| Everwear Bit Guard – ¾" | GS-BIT GUARD ¾" |
| Mini Splash Guard | G2S-MINI GUARD |
| | |
| --- | --- |
| Product | Techniglass Item # |
| The SET Straight Edge Tool | G2S-SET |
| Lens-grade Eye Shield | G3-Eyeshield Kit |