Here's What Artists Are Saying…
What a difference! I've gotta say, I am a dedicated fan of this company. Have just started working with your new MO-RE® boron nitride spray. My results have produced clean lift off of my glass from my damming molds, which is of course the point of the product, but I must say, my favorite thing about this spray over others I have used is it doesn't stink up my studio! I am all, about the complete user experience.
Scandia Wood
The premier boron nitride mold release made especially for the fusing glass enthusiast and professional.
Each masterpiece can be easily removed from any mold cleanly without any post-fire work needed.
Available in Convenient Sizes
MO-RE Spray n' Fuse is available in 12 oz. (355g) and 8 oz. (227g) spray cans to accommodate a high-capacity studio and the occasional fuser.
Radically Different
Glass is the most difficult application to release, that's why Techniglass has formulated MO-RE specifically for the art glass industry. With a non-flammable solvent base, MO-RE produces an effortless release for a wide array of molds.
Reduce Prep Time
Application and cleanup are simple compared to brush-on primers; MO-RE sprays on quick and evenly with self-leveling capabilities. No exposed mold or mold sticking to glass piece.
Flawless Release
Eliminate post-fire work with MO-RE's unique composition, allowing glass to move freely during the firing process.  When boron nitride release spray is applied evenly, each mold will release clean with no spiked edges or film left on glass.  No need to grind off rough edges!
Reduce Cost per Application
MO-RE can be used sparingly, due to its self-leveling component one will never need to worry of an uneven surface or bare mold.  Only a light coating is necessary – by reducing the amount applied to each mold, less mold release is used during the application process.
Efficient and Self-Leveling
MO-RE Spray n' Fuse Mold Release consists of microscopic solvent particulates that are expelled onto a surface by a liquid propellant. The unique formulation appears wet upon application, undergoing a self-leveling process to create an ideal barrier between glass and mold.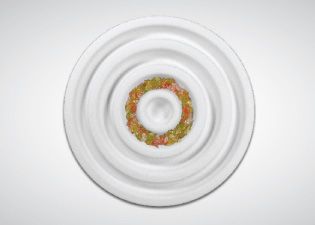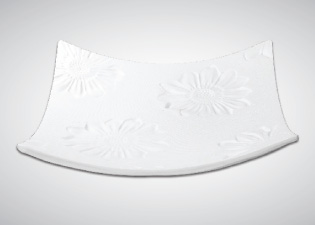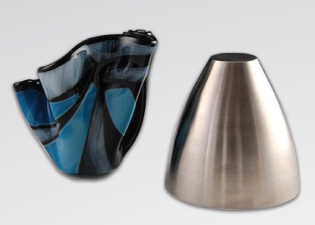 INSTRUCTIONS & USE
Please Follow Instructions Carefully
1.
Shake can vigorously for 1 min. before use to ensure proper suspension of contents
2.
Hold can at 45° angle during application

3.
Distance the can 10 to 14 inches (26–36cm) from object
4.
Spray in a swift, sweeping motion beginning off surface of object, continuing off other side
5.
On needed basis, rotate small objects
6.
Allow full 5-10 min. drying time
7.
Apply a light second coating once first coat has completely dried
---
This is a self-leveling product; initial application will appear wet.
If glass is difficult to release, a full drying time was not applied.
If you find the product is leaving 'scum on glass' – too much product has been applied.
Item No.
Description
Quantity
Volume
Dimensions
Weight
English (in)
Metric (cm)
English (lbs)
Metric (g)
MO-120
12 oz. Can
1
276 ml
9x3
23x8
0.78
340
12 oz. Case
12
3.3 L
12x9x9
31x23x23
10
4536
MO-80
8 oz. Can
1
184 ml
7x2
18x5
0.5
227
8 oz. Case
12
2.3 L
12x9x9
31x23x23
7
3175