FEATURES
Easy Identification for Beginners and Experienced Artists
The GelBit features a high-quality diamond grit available in 1″ (25mm) and 3/4″ (19mm) diameters with Rapid, Standard, Fine, and Ultra Fine varieties.
Identifiable and Attractive:
Bright neon colors correspond to grit for easy identification.
Affordable Quality:
The GelBit offers the same quality as traditional grinding bits, yet at a fraction of the cost!
Does Not Freeze Up on Shaft:
The GelBit is designed to disengage from the shaft easily.
Universal:
Like all other Techniglass products, the GelBit accommodates every type of grinder.
The Colored Bit that Corresponds to its Grit
Each type of GelBit has its own color, which corresponds to its grit. This allows for easy identification when you need to change the bit in a hurry.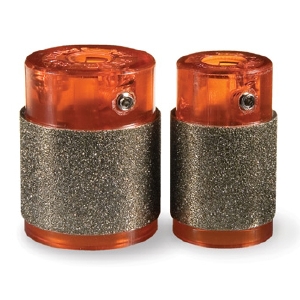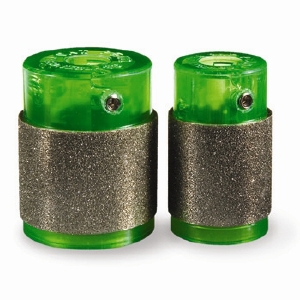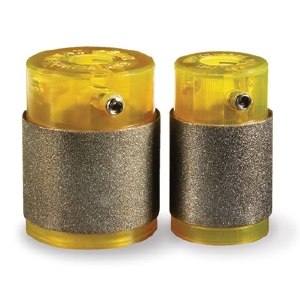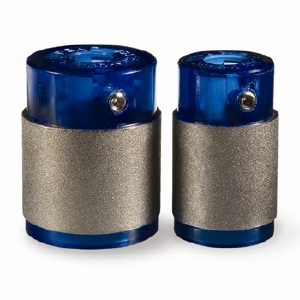 Loosen Set Screw 
Loosen the set screw using the allen key provided, turning counter clockwise.
Add Grinding Bit
Slide the bit down the shaft until approximately 1/8″ of the diamond surface is exposed above the work surface.
Lock
Secure the bit to the shaft by tightening the set screw.
Fresh Grit
When the exposed diamond no longer grinds efficiently, loosen the set screw and move the bit up the motor shaft to expose a fresh section of diamond.
| | |
| --- | --- |
| Item Number | Description |
| GB 3/4 R | GelBit 3/4″ Rapid |
| GB 1 R | GelBit 1″ Rapid |
| GB 3/4 S | GelBit 3/4″ Standard |
| GB 1 S | GelBit 1″ Standard |
US and Foreign Patents Issued
| | |
| --- | --- |
| Item Number | Description |
| GB 3/4 F | GelBit 3/4″ Fine |
| GB 1 F | GelBit 1″ Fine |
| GB 3/4 UF | GelBit 3/4″ Ultra Fine |
| GB 1 UF | GelBit 1″ Ultra Fine |