The Ultimate Stained Glass Grinder

STATE-OF-THE ART BREAKTHROUGH TECHNOLOGY FOR ART GLASS ENTHUSIASTS & EXPERTS
Sleek & Slick Contemporary Low Profile Bold Design with Extensive Features
Here's What Artists Are Saying…
I just LOVE THE GRINDER®! I have used many brands of grinders through a lot of years (I began working with art glass as a hobby in the 1970s). I used grinders in traditional ways for large and small stained glass cuts, but around 2008, I also started using them for "cold working" the edges of my thicker dammed fused artwork, prior to fire-polish them (I always referred to my grinders as the poor artist's lap wheel). As such, grinders became a multi-faceted and important piece of studio equipment.
I have now been using THE GRINDER® in my studio. I am hooked, again! Just like the Quick-Fit Bit® transformed my grinder head replacement/swap experience, I am finding THE GRINDER® to be an incredible step up in my grinder user experience. It's motor is a powerful and super quiet workhorse. The increased work surface is a major bonus for those of us that work with larger cuts of glass. One of the things I really appreciate is the built-in light that runs most of the length of the piece and then there's the rubber splash guard and removable water tray. Wow do those make clean-up so much easier!
Scandia Wood
I have one of your "the Grinder" and it is just the best thing since sliced bread I use it with both the 1″ & 3/4″ quick fit bits
Richard S.

We own a Techniglass grinder. As advertised, it's a great machine; the best grinder we ever used.
Larry Y.
I love my grinder.
Lynn M.

You are all amazing. I only wish I had room for another grinder in my studio.
Peggy P.
I am so impressed with this grinder. It was easy to put together, and easy to take apart for cleaning. The features are fantastic.
In the 39 years I've been working with glass, this is by far the best grinder I have ever used. Honestly! It's a joy to use it.
Many thanks to the person or team that designed this grinder.
Beth B.

I received my Grinder last week and it is more than I expected !! Fabulous machine. I'm not surprised that the success of The Grinder has been overwhelming. It is a fabulous product, for me the top selling points are the strip of LEDs, genius, and the size of the worktop, perfect… The Grinder is the product that we have been waiting for unconsciously. Here's to continued success !!!! Or as we say here in France, Bonne continuation !!
Joanne B.

Hi, just bought The Grinder. It's awesome!
Melissa T.

I am a stained glass artist, I just bought and received The Grinder, I was seduced by this tool, it is a very beautiful machine!
Christine F.

I am a glass artist from Canada and I love your product.
Rosemary D.

I love The Grinder and it has become my favorite tool!
Diana F.
I purchased the Grinder, I love it, so quiet & fast.
Susan H.
Your new grinder is pretty slick.
Lloyd
LOVE the benefits of The Grinder.
Virginia B.

Love your Grinder, thanks for making it!
Sharon W.

We got the Grinder… it is a perfect machine. We love it!!
Biro J.

I am a custom stained glass artist and recently purchased The Grinder! Talk about loving it! I have several other grinders but this is by far my favorite, I guess the others will have to go to the closet… Cleanup is a breeze and so easy, using the led lights makes it easier to use rather than using a lamp to highlight the areas your grinding. I also appreciate the large surface area, and being able to view the water reservoir. I have not used the second level yet but I'm sure with all the designs I will. Great Technology! and worth the price!Delia R.

I am a fuser and use the grinder to smooth out flakes. Used it yesterday and worked perfectly.
Helen S.

The President of Techniglass Corporation and designer of THE GRINDER is an engineer by day and glass artist by night. When designing The Grinder with the engineering team, he was determined to address solutions to various stained glass grinding issues and bring the market an exceptional and highly engineered, precision instrument for the professional artist, as well as the discriminating hobbyist.
Techniglass proudly delivers comprehensively advanced features and accessories for the ultimate stained glass grinding experience.
"So, please join us in celebrating the art glass world, a place of creativity and wonder with the most revolutionary stained glass grinder."
Accessories Shown Above
Super-brite LED Light Strip
Lens-grade Eye Shield
Removable Water Tray
Guide Track
Accessory Drawer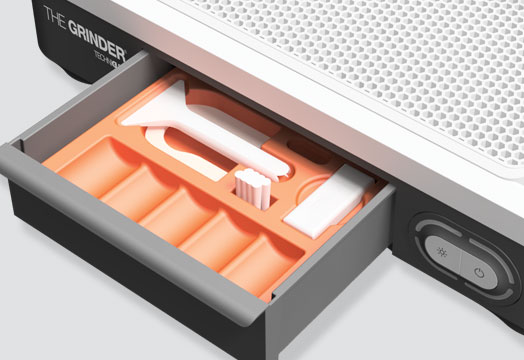 Accessory Drawer and Tray Insert – An exclusive, compartmentalized, and built-in drawer is a space saving way to store spare bits, included scraper, Aqua Flow System, replacement brushes, stainless steel bit guards, and other tools!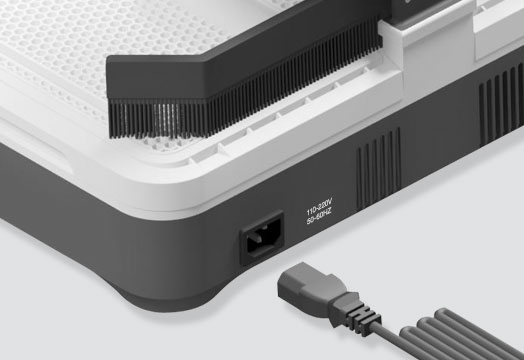 THE GRINDER is equipped with a 6 ft. (1.8 m) durable and removable 3-prong cord which meets international standards and is 110-220 VAC compatible.
COME JOIN THE REVOLUTION
An innovative stained glass grinder for an exquisite glass grinding experience.
To eliminate the muss of scalloped or rough edges, and the fuss of carrying your grinder to and from the sink, THE GRINDER, in combination with BIT Central's innovative grinding bit heads, provides a machine that is maintenance bliss and a vibration-free, smooth grind!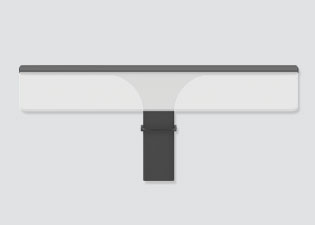 The LumiShield®
U.S & Foreign Patents Pending
The Lumishield is an illuminated, lens-grade eye shield which can be easily attached. This high visibility shield provides protection from minute glass particles that become airborne and casts an even amount of light across the work surface area. It is equipped with an energy efficient, super-brite LED light strip to best illuminate the project you are working on.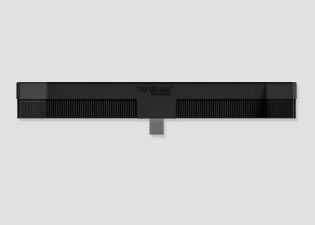 The Guard®
U.S & Foreign Patents Pending & Issued
The Guard is a wear resistant splash curtain designed to keep the studio clean and dry. The Guard is a wear resistant, flexible material that detaches easily for cleaning. Glass pieces of unlimited size and length can easily slide through the bristles which capture debris and return water to the reservoir.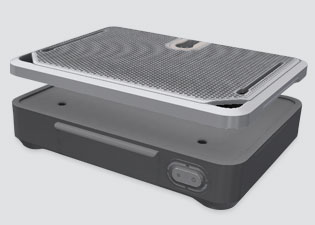 Removable Water Tray
Unlike other grinders, the water reservoir comes equipped with a removable tray which can be easily emptied after use. With handles on each side, the lift-out tray makes cleanup simple and safe. Eliminate carrying a heavy awkward grinder to the sink or potentially spilling its contents on floors and work surfaces. Any accumulated glass grit can be cleaned out with the included scraper and disposed of or repurposed.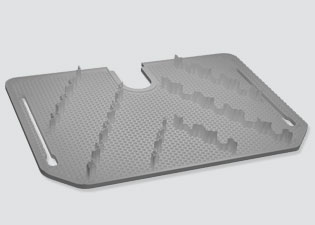 Water Wave Stabilizer
& Support System
U.S & Foreign Patents Pending
The uniquely designed main grid has incorporated supports and baffles on the underside to stabilize work surface and limit water movement during tray transport.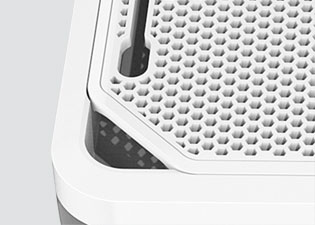 EZ-View Windows & Lift Grid
U.S & Foreign Patents Pending & Issued
It's important to keep a sufficient flow of water to the bit head while grinding. Reservoir water level can be continuously monitored through the EZ-View Windows. The Lift Grid easily removes for addition of water or cleaning with the smartly-designed cutouts.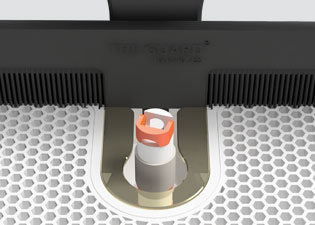 Everwear Bit Guard
Made from durable stainless steel, bit guard allows interchangeable usage of ¾" and 1″ grinding bit sizes.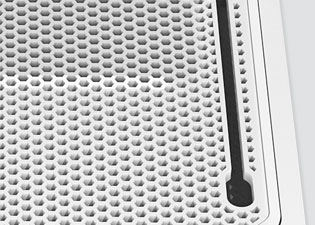 EZ-Guide Channels
THE GRINDER is equipped with convenient channels located on each side of the working surface for attaching tools.

Mini G Elevated Work Surface
The secondary platform with water reservoir can be effortlessly placed atop the main grid enabling use of 1/4″ and 1/8″ spindle top bits. Equipped with its own reservoir, the secondary platform has water ingeniously delivered to the grinding head for flawless execution.
Platform Dimensions: 1.3"H x 6"W x 5"D (33 x 153 x 127 cm)
Elevated surface outfitted with EZ-Lift Grid that can be removed for the addition of water or cleaning with specially-designed cutouts
Platform is self-sufficient with its own, separate water supply
The reservoir water level can be continuously monitored through the EZ-View Windows.
The only stained glass grinder designed with worldwide compatibility is fitted with an extensive number of features and is the most powerful, solid state motor for a premier grinding experience. From keeping the studio clean, to ease of maintenance, THE GRINDER has been developed, to ensure all creative needs are covered.
SPECIFICATIONS
Motor: Brushless DC
Voltage: 110-220 v; Dual voltage for international use
RPM: 4500 RPM
Torque: 57 oz/in (0.4 N/m)
Max Horsepower: 1/6 HP
50-60 HZ
Weight: Grinder and Accessories: 13 lbs/6 kg
Box Size: 19″ W x 14 1/2″ H x 7 3/8″ D
(48.25 cm W x 36.75 cm H x 18.75 cm D)
Threaded, open-tip spindle for 1/4″ and 1/8″ jewelry bit attachment
Low profile, Contemporary Design
Vibration Control
Industry's Best Warranty
PACKAGING AS SLEEK & SLICK AS THE MACHINE INSIDE
Purchase Your Grinder Today!