AVAILABLE NOW!
Introducing

THE COMPACT, CUSTOMIZABLE GRINDER WITH COLOSSAL POWER
Space Saving Design and Whisper Quiet Operation
EXPERIENCE THE ROBUST POWER ALONG WITH AN ULTRA-SMOOTH GRIND.
Designed for space saving efficiency and exemplary performance, THE GRINDER 2 is an advanced tool for professionals, hobbyists and classroom settings of limited space. Supported by a super quiet, powerful motor boasting a torque of 57 oz/in at 4500 RPM; Vibration Dampening
Technology absorbs shock and provides added stability to maintain an extremely quiet whisper operation for the most pleasurable grinding. With optional accessories, THE GRINDER 2 can be customized with innovative technology only offered by Techniglass.
FEATURES
Powerful DC Brushless Motor
4500 RPM
110-220 VAC for Universal Use
Low Profile, Contemporary Design
Vibration Control
Built-In Accessory Drawer
5 Year Limited Warranty
NO FOOT PETAL NEEDED
The inventive design of THE GRINDER 2 results in minimal sound when idling.
Our proprietary motor is designed to maintain a consistent low temperature, which prevents overheating.
Consumption of electricity spent is dramatically reduced. THE GRINDER 2 uses 24X less electricity than other grinders.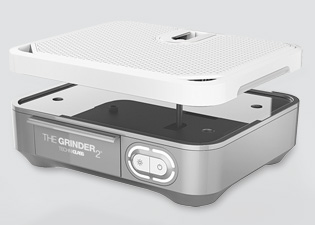 Removable Water Tray
Unlike other grinders, the water reservoir comes equipped with a removable water tray which can be easily emptied and cleaned after use. With handles on each side, the lift-out tray makes cleanup simple and safe. Eliminate carrying the entire grinder to the sink or potentially spilling its contents on floors and work surfaces.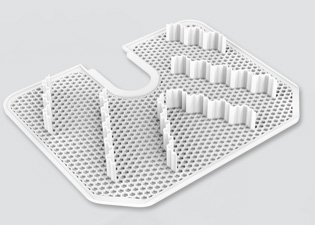 Water Wave Stabilizer and Support System
The patented and uniquely designed main grid includes supports and baffles on the underside to stabilize work surface and limit water movement during tray transport.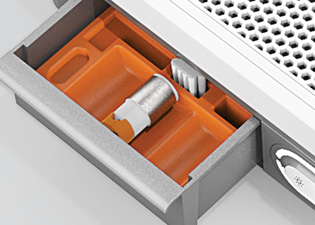 Accessory Drawer
The exclusive, compartmentalized and built-in drawer is a space saving way to store spare bits, Aqua Flow System replacement brushes and more!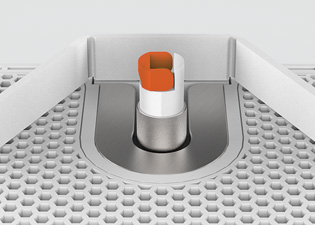 Everwear® Bit Guard
Made from stainless steel, the bit guard allows for a secure fit between the Quick-Fit Bit and the Grid.
3/4″ Everwear Bit Guard Included, 1″ Everwear Bit Guard Optional.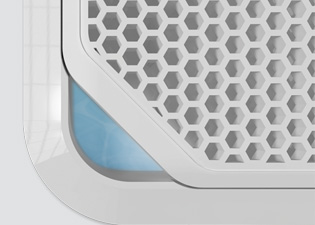 EZ-View® Windows & Lift Grid
It's important to keep a sufficient flow of water to the bit head while grinding. Fill to the Water Level Mark indicated inside the reservoir to ensure an optimal amount of water and prevent overfilling. Reservoir water level can be continuously monitored through the EZ-View Windows. The cut outs allow the Lift Grid to be easily removed for addition of water or cleaning.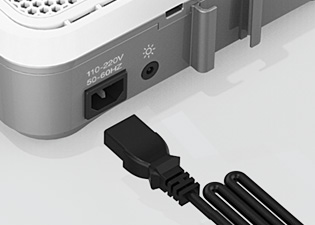 Universal Compatibility
Electric voltages and frequencies vary by country. THE GRINDER 2 is rated for universal voltage 110 – 220 VAC and is equipped with a 5 ft. (1.5 m) durable and removable 3-prong cord available for US, UK, AUS and EU outlets.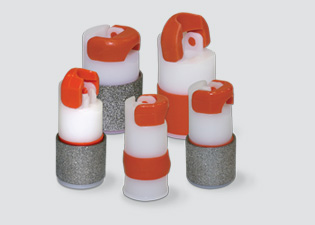 The Quick-Fit Bit®
NO KEY REQUIRED
REUSABLE HOLDER
3/4″ Included with THE GRINDER 2.
Prevents Chipping, 100% Utilization
Engineered with an industrial elastomer, the patented Quick-Fit Bit System absorbs grinding vibration and can be adjusted vertically on the grinder shaft, enabling full utilization of the grinding surface. Changing bits is fast, even for individuals with reduced grip strength. Replacement sleeves available in Rapid, Standard, Fine varieties.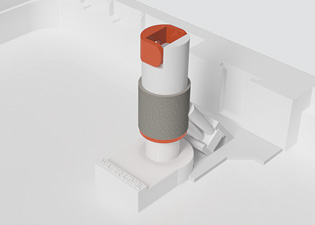 The Aqua Flow System®
NO SPONGE NEEDED
Continuous Water Flow
The patented Aqua Flow System brush bristles transfer water from the reservoir to grinding bit heads via capillary action, requiring addition of water only at the onset of grinding.
CUSTOM BUILD THE GRINDER2
WITH
OPTIONAL

ACCESSORIES.
Build as you go!
With optional accessories, THE GRINDER2 can be customized for your needs and budget.
THE CUSTOM BUILT GRINDER!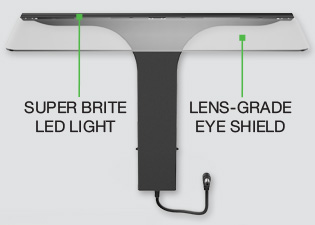 The Lumishield2® LED Light
The patent pending LED illuminated lens-grade eye shield can be easily attached. It provides protection from minute glass particles that become airborne and also casts an even amount of light across the work surface.
Equipped with an energy efficient, super-brite LED light to best illuminate the project you are working on.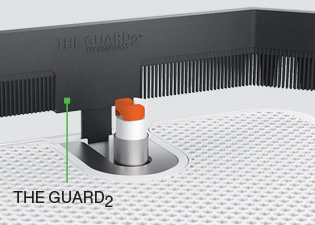 The Guard2® Splash Curtain

The patented wear-resistant splash curtain is designed to maintain a clean and dry work surface. Glass pieces of unlimited length easily slide through the bristles which capture debris and water returning to the reservoir.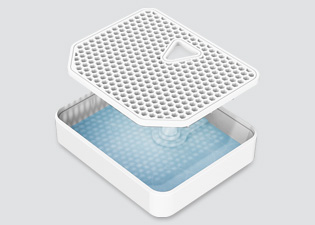 Mini G® Elevated Work Surface
The secondary platform with water reservoir is sold separately and can be placed atop the main grid enabling use of 1/4″ and 1/8″ spindle top bits.
The Mini G Bit System also includes a Shaft Water Seal.
Platform Dimensions: 1.2″ H x 5.8″ W x
4.8″ D (3cm x 14.7cm x 12.2cm)
EZ-View Window & Lift Grid: Effortlessly monitor the water level or remove the Lift Grid for the addition of water or cleaning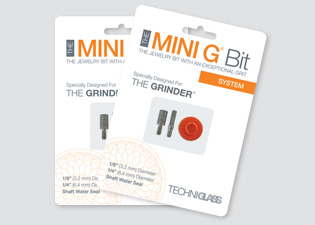 Mini G® Bit System
The Mini G Bit System offers exceptional quality diamond grit available in 1/8" (3.2mm) and 1/4" (6.4mm) diameters with standard grit.
Use the Mini G Bit System to produce intricate creations. Grind, drill, and shape your artwork using our remarkable bits for the perfect grind.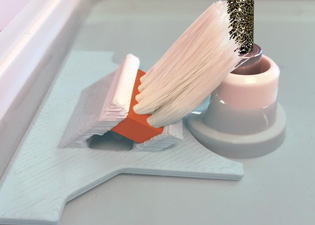 Included with THE MINI G is an orange base brush insert for the Aqua Flow System. This orange brush should ONLY be used for the MINI G upper platform.
Product

Techniglass Item #

Quick-Fit Bit System 200 – ¾"
QFBS-200-3/4
Aqua Flow System
AFS-TG
Everwear Bit Guard – ¾"
GS-BIT GUARD ¾"
Mini Splash Guard
G2S-MINI GUARD
Power Cord
G-PCORD US
G-PCORD UK
G-PCORD EU
G-PCORD AUS
Product

Techniglass Item #

THE LUMISHIELD2
LED Illuminated Eye Shield
G2S-KIT LUMISHIELD
THE GUARD2 Splash Curtain
G2S-SPLASH GUARD
Mini G Elevated Work Surface
GS-Kit MINI G
Mini G Bit System
G-MB KIT
Quick-Fit Bit® System 200 – 1″
QFBS-200-1
Everwear® Bit Guard – 1″
GS-BIT GUARD 1″